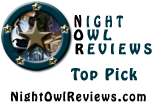 Diana of Night Owl Reviews has reviewed The Revelation by Karen Fuller.
Title: The Revelation
Wickford High Series, Book 1
Authors: Karen Fuller
Genres: Paranormal Romance, Teen
Site Date Sep 21, 2010
Online Link: http://www.nightowlreviews.com/nor/Reviews/Diana-reviews-The-Revelation-by-Karen-Fuller.aspx
Score: 5.00 / 5 - Reviewer Top Pick
Review:
Vicky Phillips has always thought of herself as a normal teenager. But strange
things have been happening to her lately that she just can't explain. Then
tragedy strikes and her mother dies unexpectedly. Within a few days of her mom's
death, her father decides to relocate them from Fort Lauderdale to a new town
some distance away that seems nice, but very different. Everything that's
happening as of late seems pretty extreme to Vicky, but her father doesn't tell
her the true reasoning behind their abrupt move. He wants to protect her in any
way possible that he can.
Starting out in a new school her senior year isn't the easiest either. She finds
herself enrolled into Wickford High, a strict Catholic school, and from the
moment she walks in there things keep getting worse for her. But they start to
look up when she meets this really cute guy, Luke Wolfburn, and he takes her
under his wing to help her transition a bit easier. As they get to know each
other, they seem very attracted to one another, but Luke is fearful that if she
finds out the truth about him she won't still be interested in him.
Does Vicky ever find out Luke's secret? What about all the secrets her parents
have withheld from her too? Moving forward, is it at all possible for her to try
and have as normal a teenage life as she can?
I have to say that I absolutely loved this book! Although it's a Young Adult
novel I can assure you that even as an adult, such as myself, you'll enjoy it
just as much as a teenager. I know this is a new author and rest assured she
will be going places with her new series. She carved out wonderful characters
that you just can't help but fall in love with and they work so well together to
make this story so believable. I eagerly look forward to reading the next book
in the series, Furiously Tempted , which should be coming out soon. Don't pass
this new series up!
Happy Reading,
Tammie King
Director of Marketing
WEtap Media, LLC
Night Owl Mainstream - http://www.nightowlreviews.com
Night Owl Paranormal - http://www.nightowlparanormal.com
Night Owl Suspense - http://www.nightowlsuspense.com
Night Owl Erotica - http://www.nightowlerotica.com
Night Owl Romance - http://www.nightowlromance.com
Night Owl Sci-Fi - http://www.nightowlscifi.com
Night Owl Teen - http://www.nightowlteen.com
Night Owl Reviews has a free monthly book lovers magazine. Get your copy today: